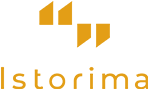 CASE STUDY
ISTORIMA
Creating the largest digital archive of Greek oral history
THE CHALLENGE
FROM STORYTELLING TO CULTURAL HERITAGE
There are many definitions describing history. No matter which one you choose, history's foundations are laid upon collections of memories, experiences, records. And, of course, stories. Oral history is the vehicle of our intangible cultural heritage and an essential method of the historical process.
So, what if 50,000 stories from Greeks in every corner of the country - and even beyond - could be collected, archived and made accessible for everyone, through technology? How could we bring forth the largest digital archive of Greek oral history, and what would that mean for present and future generations?
THE STRATEGY
GREEK ORAL LEGACY MADE DIGITAL
Istorima is a Non-Profit Organisation, established to create an extensive archive of Greek oral history, while offering young people the opportunity to have temporary employment as researchers.
Conceived by journalist Sofia Papaioannou and historian Katherine Fleming, Istorima was realised with a founding donation by the Stavros Niarchos Foundation, within its Recharging the Youth Initiative.
Over the next four years, 1,500 researchers are expected to have gathered, recorded and archived 50,000 stories from all around Greece.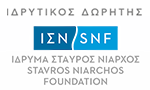 ATCOM, as a supporter of the project, designed and implemented the digital home of Istorima, aiming to transform the collection of Greeks' oral accounts into a worthwhile reference point for Greek cultural heritage.
We translated the objectives of Istorima into a comprehensive digital strategy that places humans at its core. Integrating the latest Experience Design best practices and technological innovation, our goal was to produce intuitive and impactful user experiences, empowering all visitors to journey deep into the past of our country, through real stories by real people.
UNIQUE FEATURES
MAKING HISTORY THROUGH TECHNOLOGY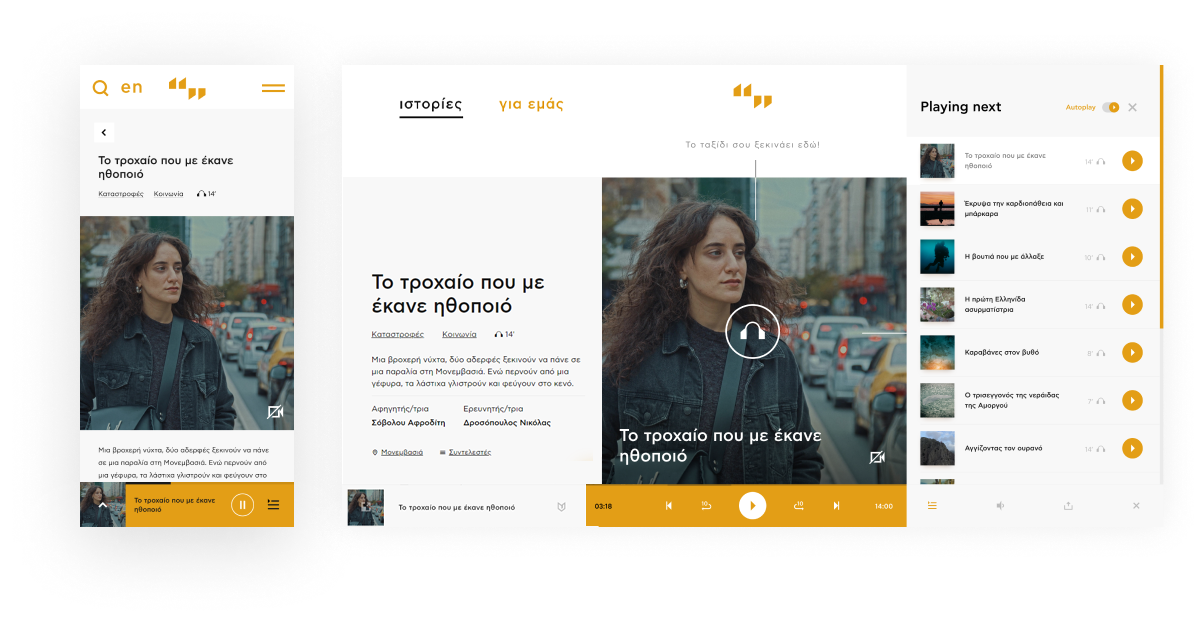 Single Page Application
Istorima.org is a Single Page Application, designed in a mobile-first, responsive approach.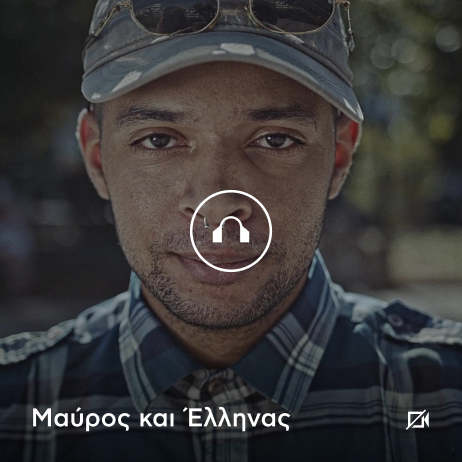 Smart incorporation of media
Photography, video footage and audio recordings in a powerful combination, strategically designed to invite, engage and empathise.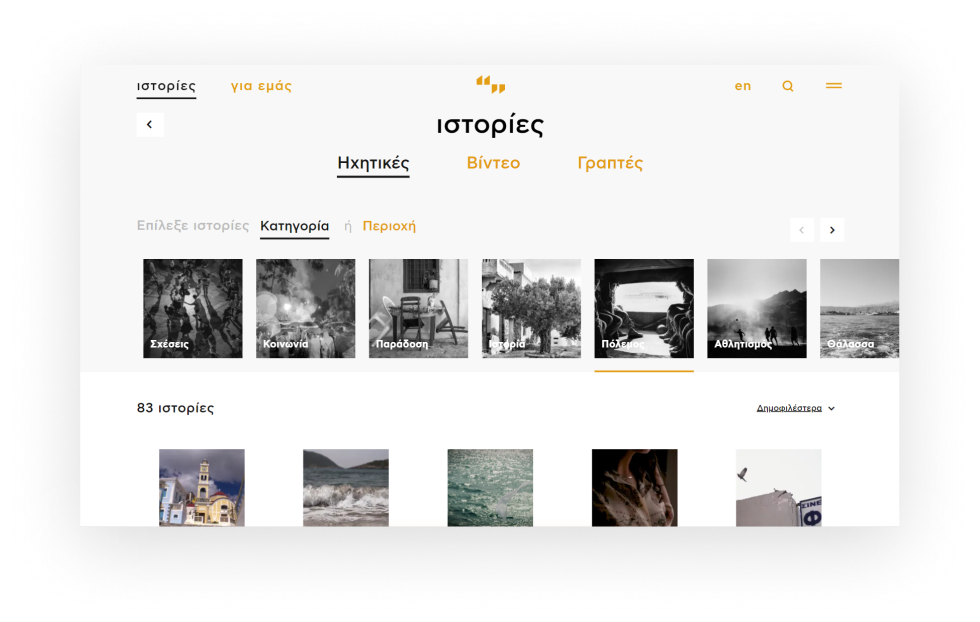 Robust information architecture & intuitive navigation
Users are always one click away from the next story.
"Sticky" player to augment user experience
Visitors can navigate throughout the portal while listening to the same podcast in a seamless and uninterrupted manner.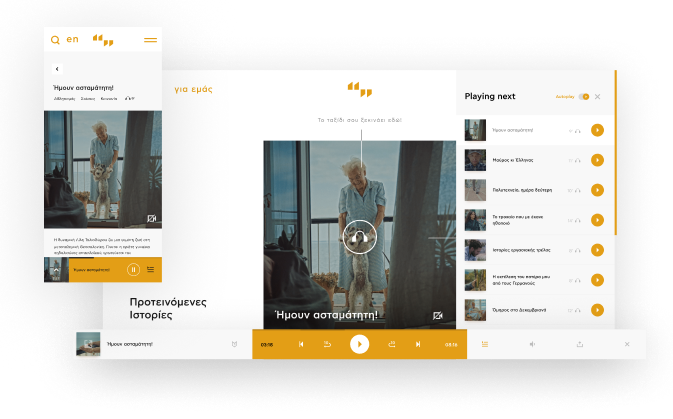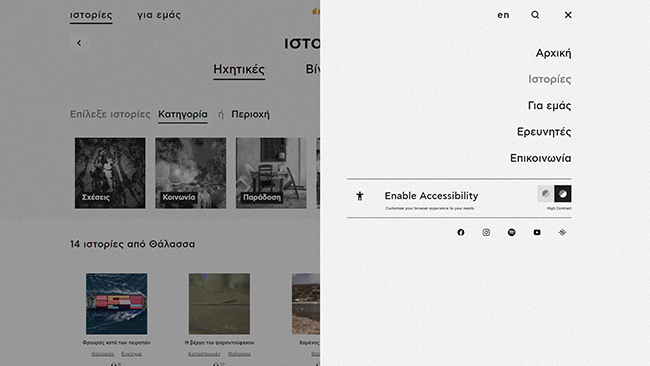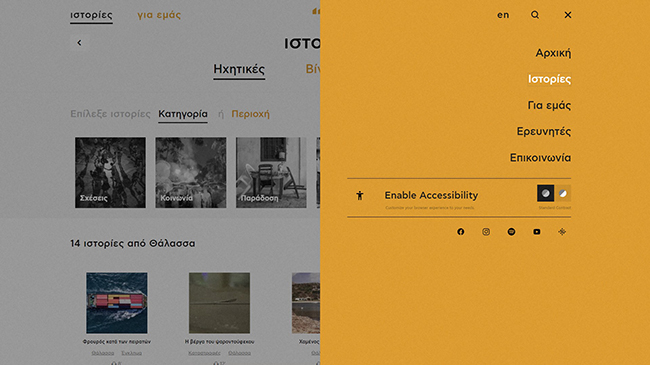 Usability and accessibility
Smart and human-centred experience design, that is compliant with web accessibility rules.
TECHNOLOGY
BUILT WITH THE BEST



THE OUTCOME
PRESERVING THE PAST. EMPOWERING THE FUTURE.
True to ATCOM's purpose to make a positive impact in peoples' lives and communities, we are honoured to support and contribute in this inspiring initiative.
The history of Greece unfolds in istorima.org, through a unique selection of stories about life-changing experiences, adventures, personal confessions or everyday moments. An abundance of various experiences, with the Greek people as their common denominator.
Apart from a vital part of Greek cultural heritage, istorima.org represents a valuable source of knowledge, unity and empowerment, as it is only when preserving and understanding the past, that we can move forward into the future – and make it a brighter one.