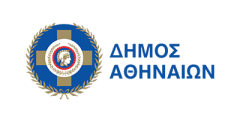 CASE STUDY
PROJECT ATHENA
Making Athens an Intelligent City
THE CHALLENGE
TIME TO TRANSCEND THE TRADITIONAL
Our world is changing. Cities grow in size, number and population, faster than ever. Fast-paced urbanisation, global environmental change and the negative impact of economic instability are some of the issues that afflict modern societies. At the same time, digital technologies are evolving at an unprecedented rate, offering an abundance of tools and opportunities, applicable to every angle of life. The challenge remains: How do we harness the power of technology to make our cities efficient, sustainable and citizen-friendly? And what if we used the Internet of Things to transform the city of Athens into a Smart City?
THE STRATEGY
TRANSFORMING EVERYDAY LIFE THROUGH TECHNOLOGY
Over the past few years, there has been growing awareness around the Internet of Things (IoT). The logic of IoT and the connection of physical objects to the Internet gave birth to the idea of the "Smart City", as an ideal answer to urban problems.
WHAT MAKES A CITY SMART THEN?
A Smart City entails the intelligent application of information and communication technologies, leading to optimised infrastructure and smart, responsive governance. A system of sensors, networks and applications harvest useful data, which in turn are used to address public issues, achieve sustainable development and increase, here and now, the quality of life of its citizens. Simply put, Smart Cities are designed to make the best out of their resources; and, therefore, to promote a healthy, liveable and efficient environment.
THE CONCEPT
PROJECT ATHENA
Cities usually approach digital transformation progressively. At the initial phase, the aim is to experiment and test potential technological solutions in urban services, with proof-of-concept initiatives and small pilot projects.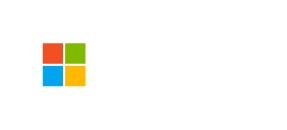 This is exactly what Project Athena is. A proof-of-concept project for the City of Athens, co-funded by ATCOM and Microsoft, as part of "Adopt your city" by the City of Athens; a program that aims to bring significant results in areas such as sustainable development, culture, social solidarity, sports, education and new technologies. As a pilot initiative in partnership with the Municipality of Athens, Project Athena has the capacity to create significant added value, to be reaped by all the citizens of the largest municipality in Greece.
Although Smart Cities as a concept have been around for several years, their application in Greece have rarely passed the pilot stage to mature into large-scale implementations.
HOW WE DID IT
SENSORS
Our approach was holistic. To implement a flexible and scalable Smart City ecosystem, we combined an inclusive multi-service IoT network, backed up by security architecture, with an aggregated Smart City Management Platform. We distributed a large number of high-density sensors over an extensive geographic area, according to a sensor architecture plan that is specific to the City of Athens. The areas of choice were Kotzia Square and Kolonaki. The data derived from the sensors facilitate Smart City services, which include smart waste management, real-time monitoring of pollution and air quality, sound, temperature and humidity levels, energy efficiency, as well as streets and crossings accessibility.
Accessibility
Sonar sensors, installed on the access crossings for the disabled, detect obstacles that block the access, notifying the competent authority to take action.
Smart Waste Management
Sensors placed on the waste bin lids monitor the level of containing waste, receiving accurate measurements through optical and ultrasonic technologies. Once the level exceeds the default value, the competent service is notified to access the bins and collect the waste.
Air pollution
Air quality sensors monitor the levels of particulate matters of specific diameters (PM1, PM2.5 and PM10), providing reliable data to ensure timely response measures.
Noise pollution
Environmental noise measuring devices record and monitor harmful noise generated by human activities, including noise emitted by road, rail, air and mass transport.
Temperature & Humidity
Sensors monitoring temperature and humidity levels provide accurate, real-time measurement.
Resource management
"Smart meters" allow us to:
Monitor the electricity consumption in real time
Gain immediate information
Reduce consumption
Save energy & costs
HOW WE DID IT
NETWORK
To ensure the optimal data transmission under the LoRa communication protocol, we installed two antennas on Mount Lycabettus and the City Hall of Athens in Kotzia Square. Small in dimensions and requiring a low voltage power supply, the antennas set up a municipal private network that can broadcast on licence-free frequency, where dozens of interconnected devices can join.

LoRa (Long Range) is a communication protocol that enables long-range transmissions with low power consumption. LoRa uses sub-gigahertz free radio bands, such as 868 MHz for Europe, to transmit information.
THE CONCEPT
FROM DATA TO DECISIONS
The data we collect are fed into an integrated management platform, built specifically for data analysis and visualisation. Our platform uses Business Intelligence (BI) tools to parse large amounts of data, along with visualisation tools to present them in innovative ways that facilitate understanding and decision-making. This management platform can be connected with every competent authority and provide a powerful tool to transform knowledge into action.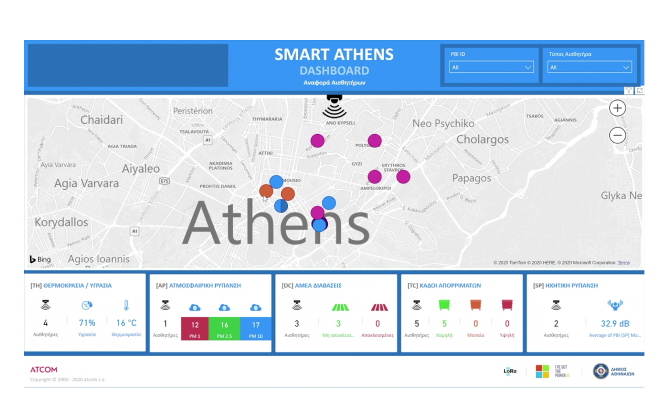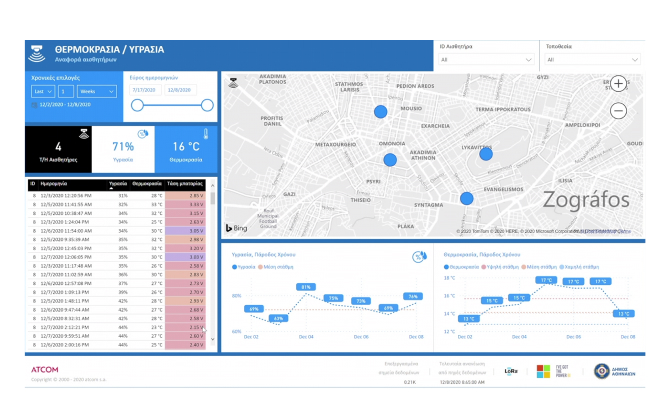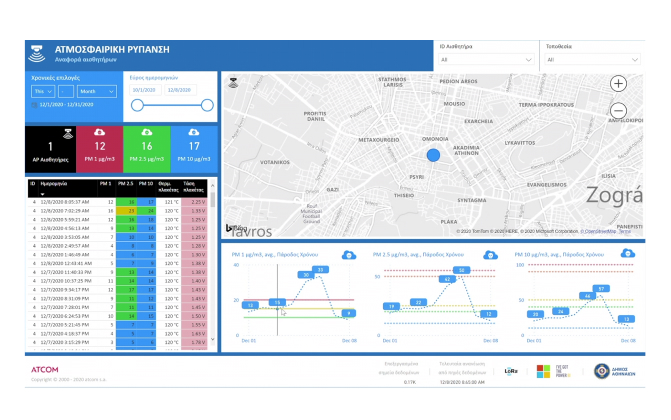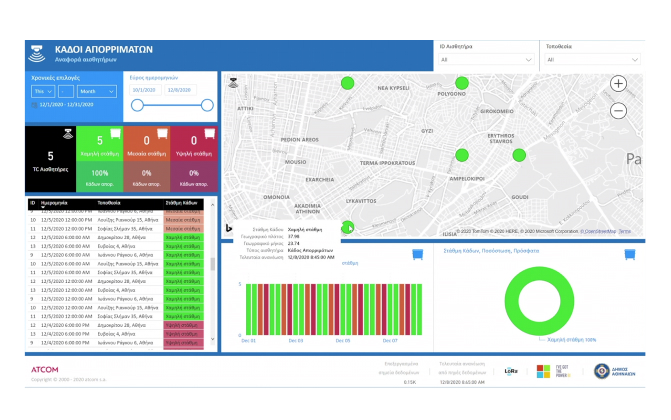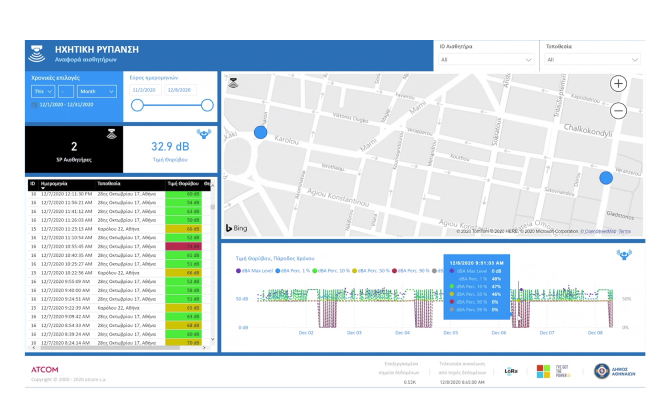 All in One Platform
Real-time Information
Advanced Reporting
Interactive Data Visualisation
Adaptability & Scalability
TECHNOLOGY
MICROSOFT TOOLS

Azure IoT Hub
Our sensors are connected to Azure IoT Hub; a collection of managed services, all connected to the cloud, to monitor and control billions of IoT assets.
Azure SQL
Following the real time analysis, the data are stored and can be accessed later on to extract useful reporting, analytics and trends.
Azure Functions
With Azure Functions, we simplify complexities, connecting services without the need of hard-coding, and we create reliable serverless applications with built-in security and monitoring.
Azure Edge
Through Azure Edge, we generate analytics and AI that help us respond in near-real time. This means we instantly know what needs to be done, from the operations center to the city center.
THE OUTCOME
ATHENS: A SMART CITY
At ATCOM, we strongly believe in the importance of a sustainable journey towards digital transformation. A journey based on the pillars of security, adaptability and interoperability. Together with Microsoft, our mission is to empower our customers and communities - and what better place to start than our City of Athens! Project Athena is the epitome of our vision to transform Athens into a Smart City. A city greener, safer and accessible, governed by open communication, smart decision-making procedures and an improved quality of life.