TOTAL REDESIGN AND UPGRADED USER EXPERIENCE FOR PIRAEUS BANK'S WINBANK BY ATCOM
The only truly responsive web banking platform, providing full accessibility on mobile devices.
ATCOM entirely redesigned winbank, Piraeus Bank's e-banking platform, responding to the Bank's increasing need to provide an improved experience to its customers.
The new winbank is the result of a coherent research performed jointly and the efficient design approach and front-end implementation outlined by ATCOM, putting to use the expertise of UXlab, its Business Unit focusing exclusively on Usability and User Experience.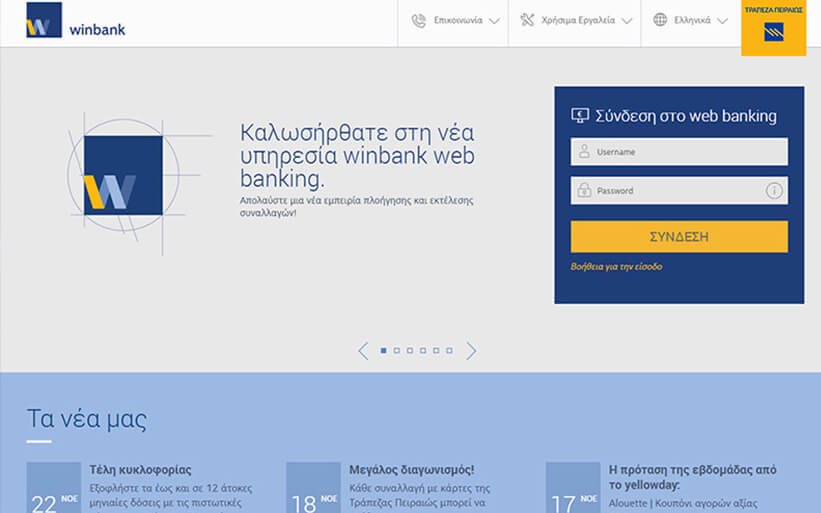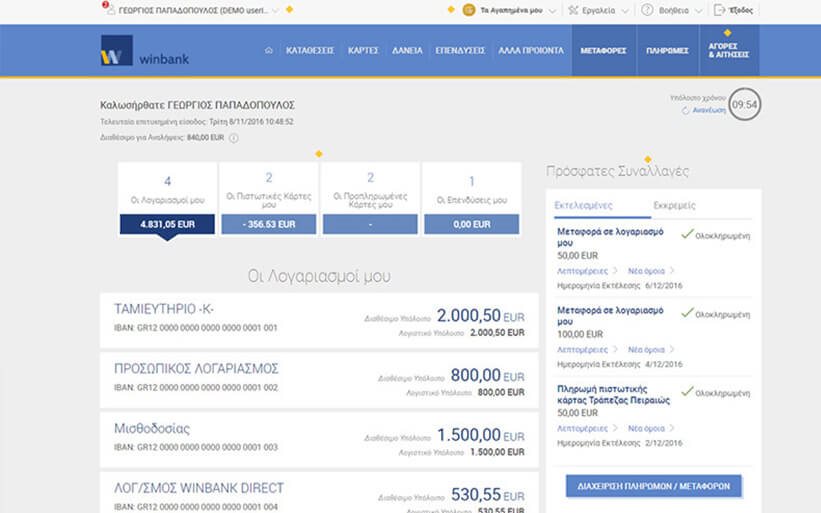 The platform's front-end development was based on the technology of responsiveness, allowing it to automatically adapt to any device and screen resolution. The new winbank is the only truly responsive e-banking platform and, thus, the only one offering full accessibility and functionality on mobile devices.
Upgraded and user-friendly, the redesigned winbank features a clean and intelligible User Interface, incorporates a dynamic main navigation menu and introduces a practical mega menu that offers one-click access to useful sections of the system. With new customised elements which enable an improved experience of navigation and completion of transactions, further personalisation of the e-banking service is introduced, highlighting the most important products of each user's account.
ATCOM, keeping as a main priority to satisfy Piraeus Bank's goals of optimising the design and restructuring the platform's content, defined and plotted the redesigning strategy exhaustively using a wide range of tools, such as a number of stakeholder workshops to determine the overall needs and expectations, and an in-depth analysis of customer feedback and data analytics, to comprehend user behaviour. The information architecture was set from scratch, aligned with the business objectives of the organisation, while tree testing surveys applied on real users proved to be crucial to the finalisation of the project.
With information findability dominating the new structure, the final outcome secures winbank's competitive advantage and is reflective not only of the size, quality and reliability of Piraeus Bank, but of the user demands as well.
Elena Orfanidou, Director of Digital Banking of Piraeus Bank stated: "Winbank's remodelling, in terms of design and functionality, upgraded customer experience greatly. In conjunction with the ability to make full use of the service on every mobile device, clients of Piraeus Bank now have access to certainly the most modern web banking platform."
Konstantinos Theotokas, ATCOM's Managing Director said: "Piraeus Bank's Winbank is a project we are extremely proud of. The redesign of such a complex service requires careful research, methodical design and an unmistakable implementation. The excellent outcome proves the quality of our work and the potential of ATCOM's team."