CASE STUDY AEGEAN AIRLINES
THE CHALLENGE
Rethinking AEGEAN's digital services
Aegean Airlines, one of the leading European airlines and the largest in Greece, member of Star Alliance and voted as "Europe's Leading Regional Airline" for several consecutive years at the world-renowned Skytrax World Airline Awards, needed a change.
The challenge was to make exemplary use of all its digital channels, aiming to further increase traffic and conversions, extend the Miles+Bonus member network and offer a seamless experience across channels, platforms and devices.
ATCOM was selected as the strategy and technology partner to optimise the infrastructure, functionality and accessibility of the airline's services, by revamping and replatforming the aegeanair.com website.

THE STRATEGY
Aegean's vision is to act responsibly, strive to enhance customer experience and invest in innovation. With that into account and considering the challenges modern airlines face, we devised the business transformation plan that would set Aegean Airlines ahead of competition.

How did we plan it?
Our strategy was centred around the elevated technical complexity of the project, especially when it comes to its sophisticated third-party connectivity and advanced functionalities which include:
The Passenger Service System that handles reservations, ticketing and inventory, Customer Relationship and Loyalty Management Systems, the incorporation of different accommodation and car rental ancillary services, the integration with banking systems - the list is endless.
Use cases and scenarios were carefully laid out and studied by the UXlab, ATCOM's BU specialised in UX & Usability, to create an integrated flow, followed by high-fidelity wireframes to imprint every functionality, point of interaction and user journeys and ensure seamless navigation.
Considering the multiple use journeys, technical restrictions and the volume of traffic - an average of more than 5 million website visitors per month - transactions and sales, how could we approach the project without affecting ticket sales, which are the company's primary revenue stream?
The answer was found in the Sitecore Experience Platform, the Web Experience Manager CMS by Sitecore, a global leader in customer experience software. The Sitecore Experience Platform 8 provides contextual intelligence and enables personalised commerce at scale and in real time, across every channel.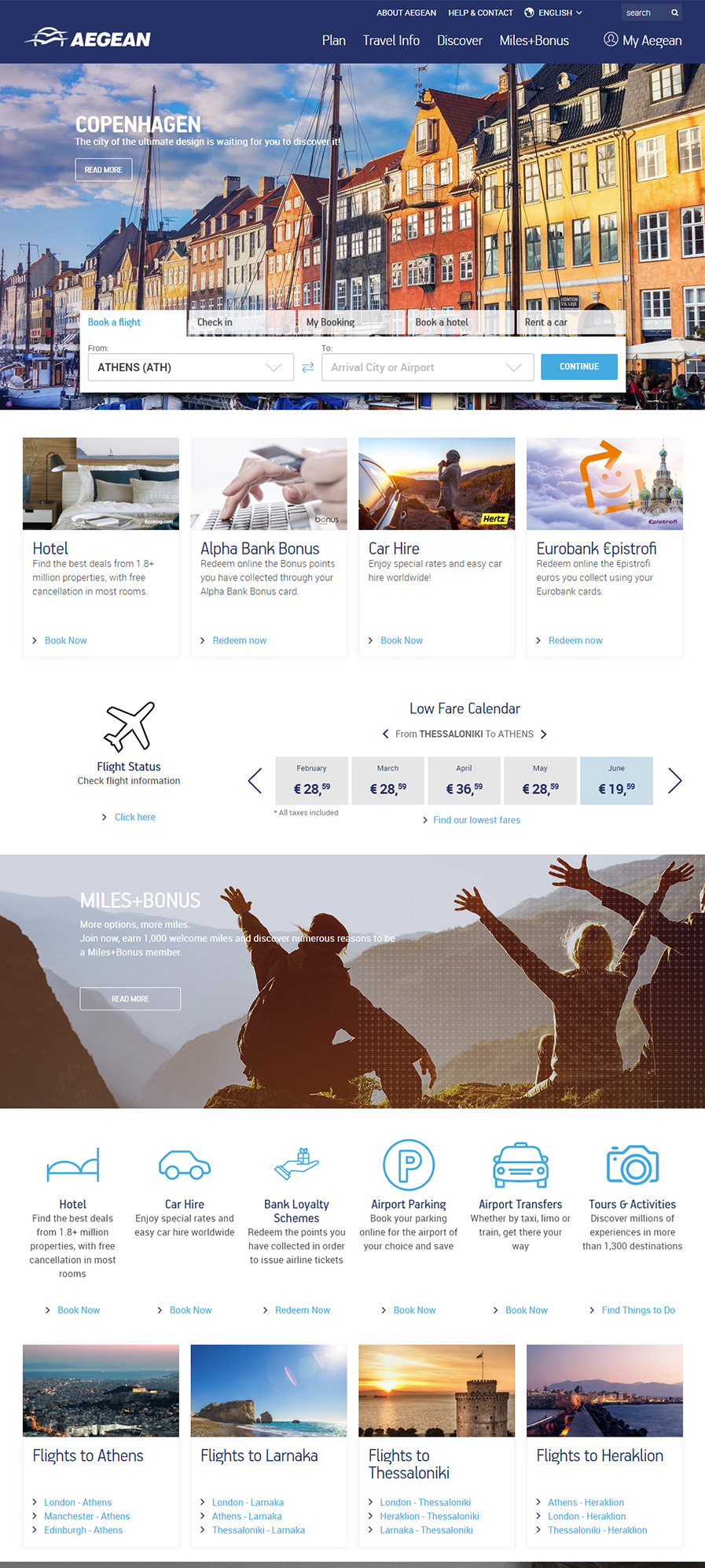 UNIQUE FEATURES
01
USER INTERFACE & USABILITY
Premium design that promotes intuitive navigation and usability.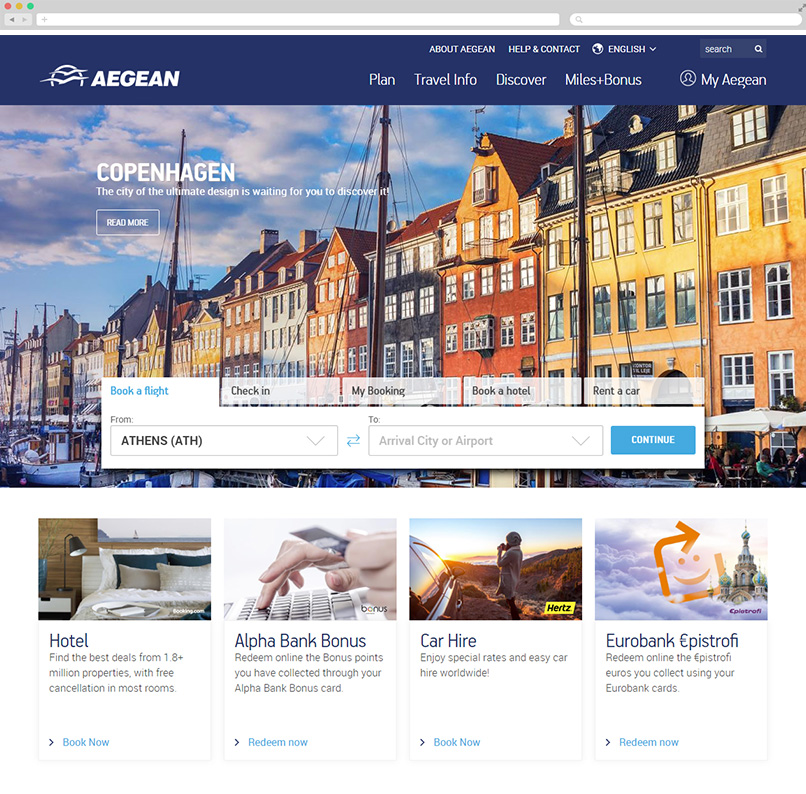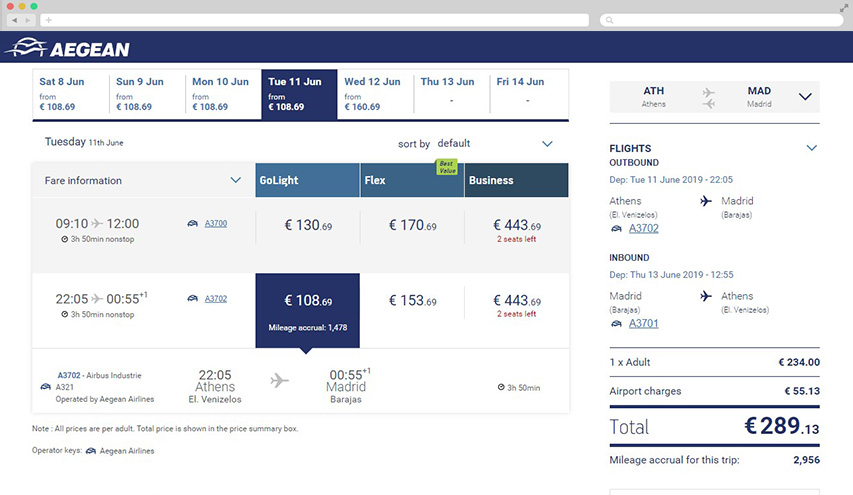 02
BOOKING FLOW
Innovative single-page design with clear and editable steps, restructured to integrate new digital travel services and allow quick and easy order completions.
03
3RD PARTY CONNECTIVITY & INTEGRATED BASKET
Reservation, ticketing, check in and departures
Frequent Flyer and Miles+Bonus loyalty scheme
Airport routes, Alpha Bank, Cyprus Bank and Eurobank credit card bonus point collection and redemption, promocodes and analytics services
Accommodation and car rental included in integrated basket
CRM data collection from the previous Aegean (Sitecore), Olympic Air (Sitecore) and Amadeus Loyalty systems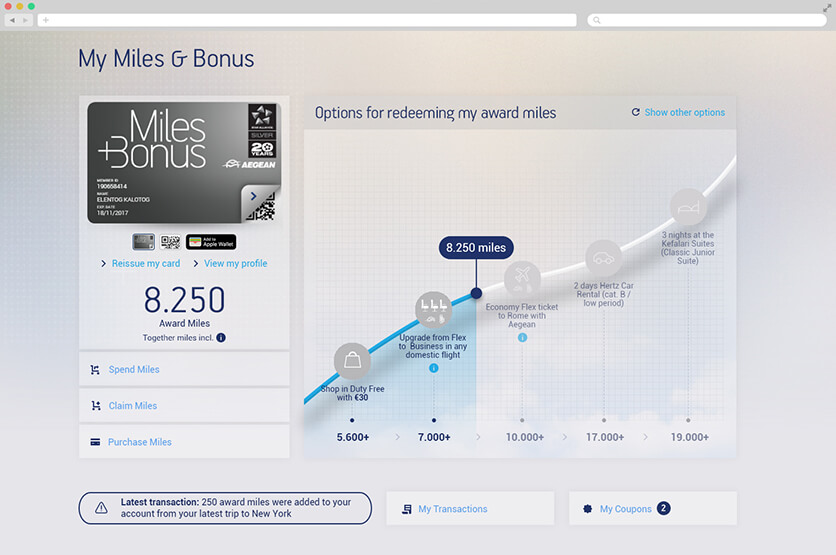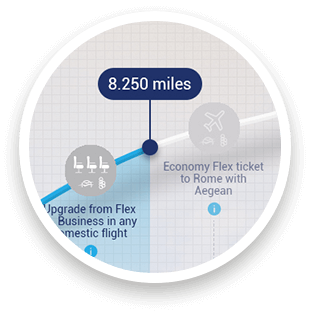 04
PERSONALISATION
"My Aegean" feature offers complete overview and control of registered users and Miles+Bonus members profiles, online and offline activity, as well as point collection and redemption.
05
RESPONSIVENESS
Aegeanair.com was the first airline website to be responsive in Europe and one of the first worldwide.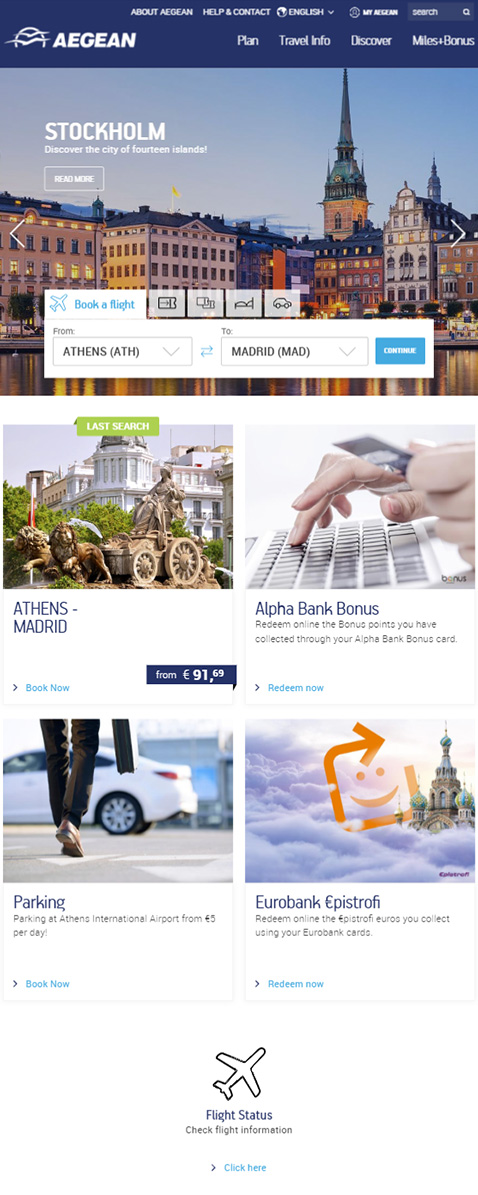 THE OUTCOME
Aegean Airlines redefines its digital services and unifies customer behaviour across channels, platforms and devices. Incorporating innovative features and functionalities and achieving superior performance, Aegean Airlines escalates personalisation and addresses each customer in person, directly and meaningfully.
A hyper-system comprising of three different sites – e-Commerce, Corporate, Miles+Bonus - the website supports highly advanced connectivity with multiple third-party systems, channelling them through an integrated basket and offering a seamless, uninterrupted customer experience.
Aegeanair.com is ATCOM's first project on the Sitecore Experience Platform 8 and one of the most complex implementations globally. Sitecore honoured ATCOM and Aegean Airlines with two of the most prestigious Sitecore Experience Awards in 2016; the "Best Use of Content Management" award for us and the ultimate "Site of the Year" award for Aegean Airlines, proclaiming aegeanair.com the overall winner in Southern Europe. More recently, aegeanair.com was proclaimed "Best Greek e-shop by GRECA", at the e-Volution Awards 2019.
RESULTS
THE FUTURE OF AIRLINE SERVICES
IS ALREADY HERE.
CONTACT US