CASE STUDY
IKEA OMNICHANNEL COMMERCE
Redefining the IKEA experience
THE CHALLENGE
FROM E-COMMERCE TO OMNICHANNEL COMMERCE
IKEA is the world's largest furniture retailer, with over 300 stores in 42 countries. In 2014, IKEA Greece collaborated with ATCOM to develop its business and become active in the field of e-commerce. Five years into our partnership, it was time to upgrade the IKEA digital channels in Greece, Bulgaria and Cyprus, and help the company remain a leader in the fast-changing retail environment.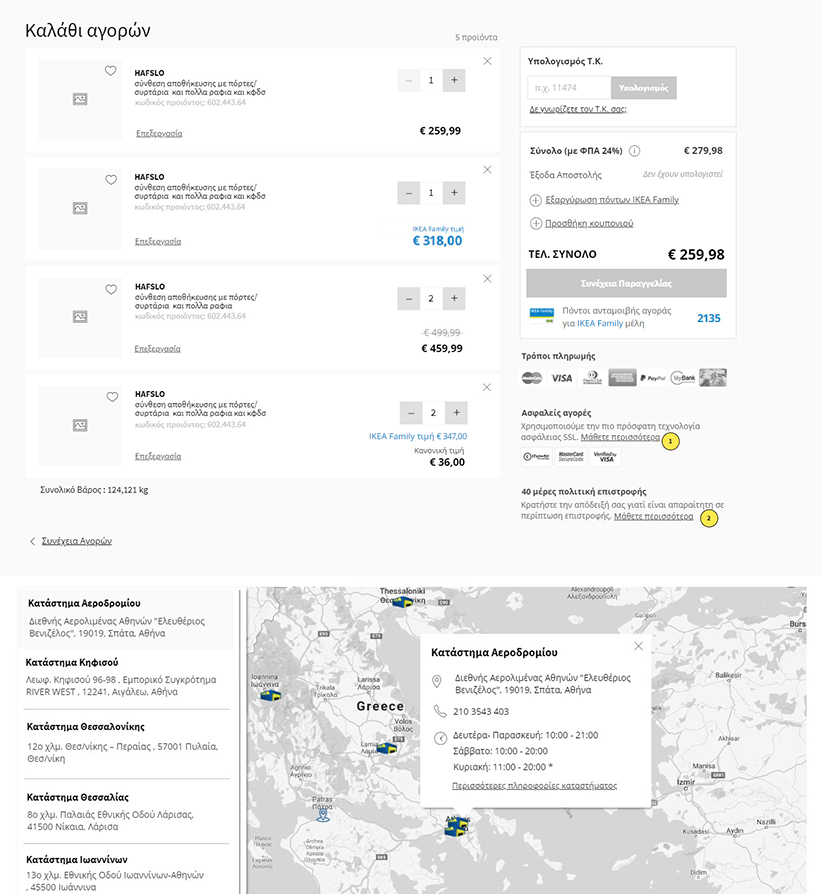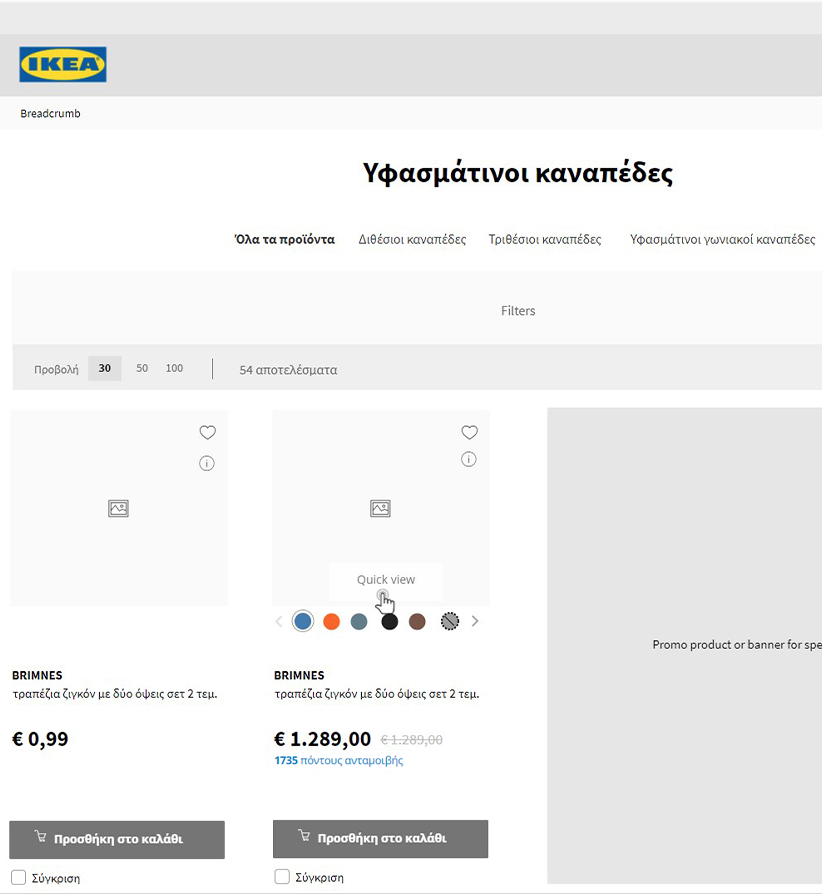 THE STRATEGY
A CONNECTED ECOSYSTEM, REDESIGNED TO TRANSFORM CUSTOMER EXPERIENCES
In order to define our strategic methodology and process, we embarked on a comprehensive research journey. Within a Design Thinking approach, we combined critical insights derived from user research, heuristics evaluation, expert reviews and competitive analysis. Aiming to empathise with users, we identified behavioural patterns and motivations, and modelled the project's architecture, by factoring in IKEA's business objectives. Through continuous iterations of the prototyping process, constant user testing validated our hypothesis. So we transformed IKEA's e-shop and mobile application, aiming to deliver unique and consistent customer experiences across channels and strategically put together the components of a truly IKEA Omnichannel strategy.
01
THE EXPERIENCE



DESKTOP TABLET MOBILE
02
UNIQUE FEATURES
DIGITAL TRANSFORMATION AT ITS BEST
To optimise navigation and improve usability, we rebuilt the entire information architecture of IKEA's digital touchpoints. Based on a new product categorisation and a strategic hierarchy of content, navigation is simplified and multiple alternative paths are now available to users. With a clean-cut design and modern aesthetics, pages are enriched with relevant, focused content displayed in a compact format, optimised for user interaction.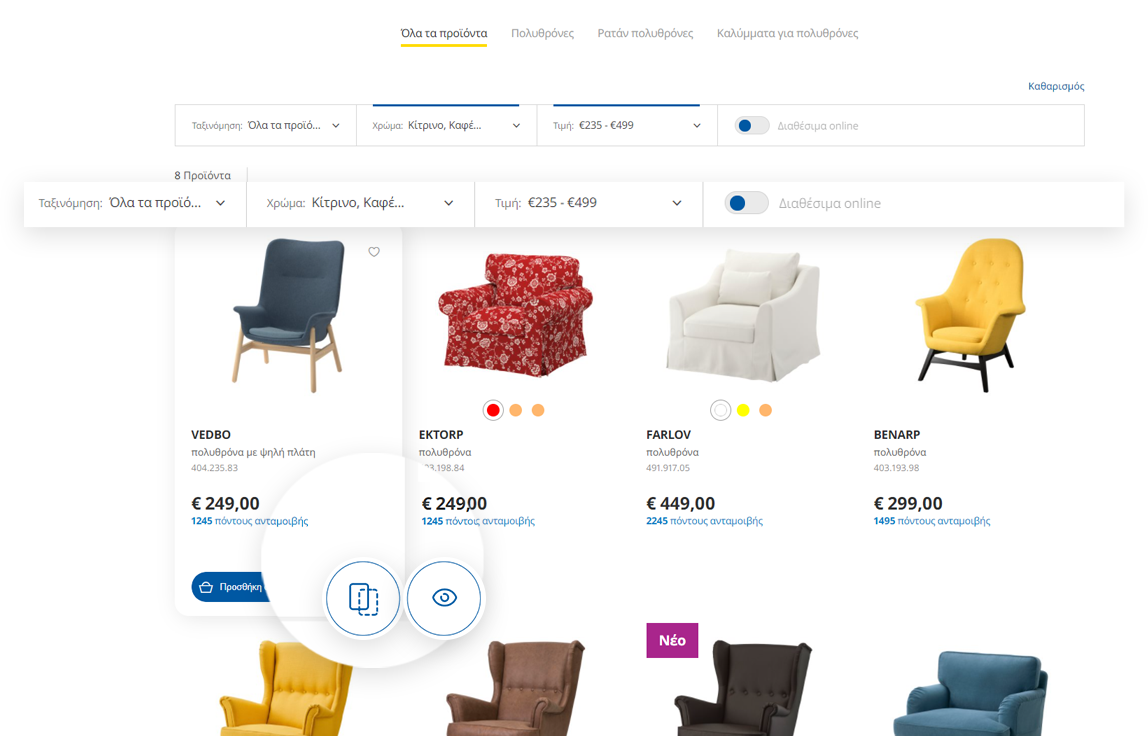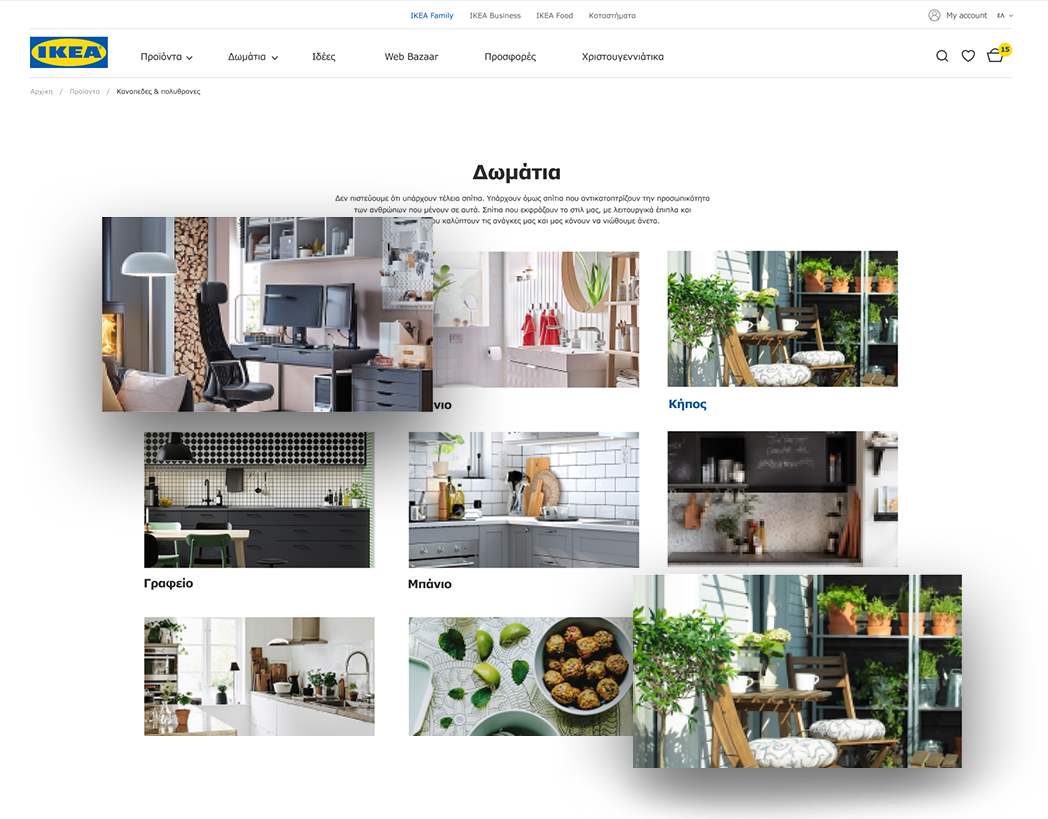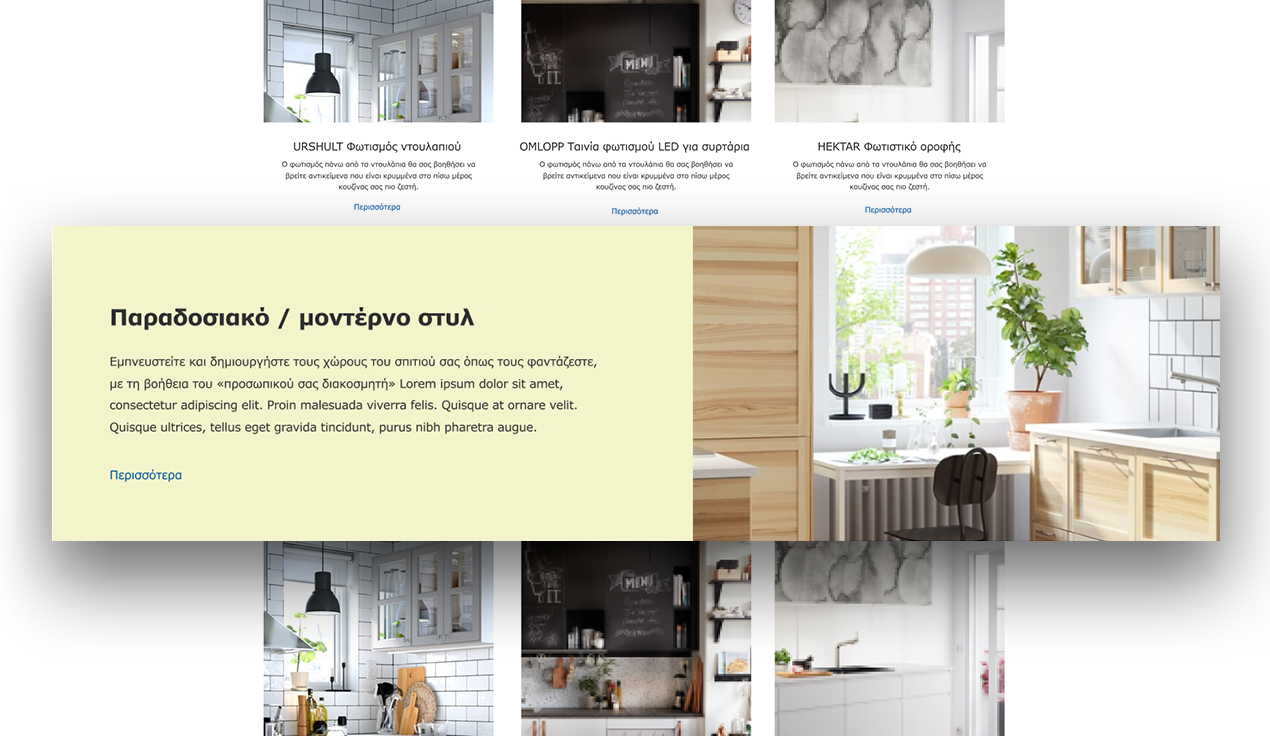 03
INSPIRATION ROOMS
PUSHING THE CREATIVE BOUNDARIES
We brought Inspiration Rooms, the principal concept of IKEA's physical stores, into the digital space, as interactive hotspots with clickable elements that trigger the display of information about the showcased products. This helps users visualise the products into an actual room, provide ideas on how to furnish their own space and motivates them to proceed to online purchases.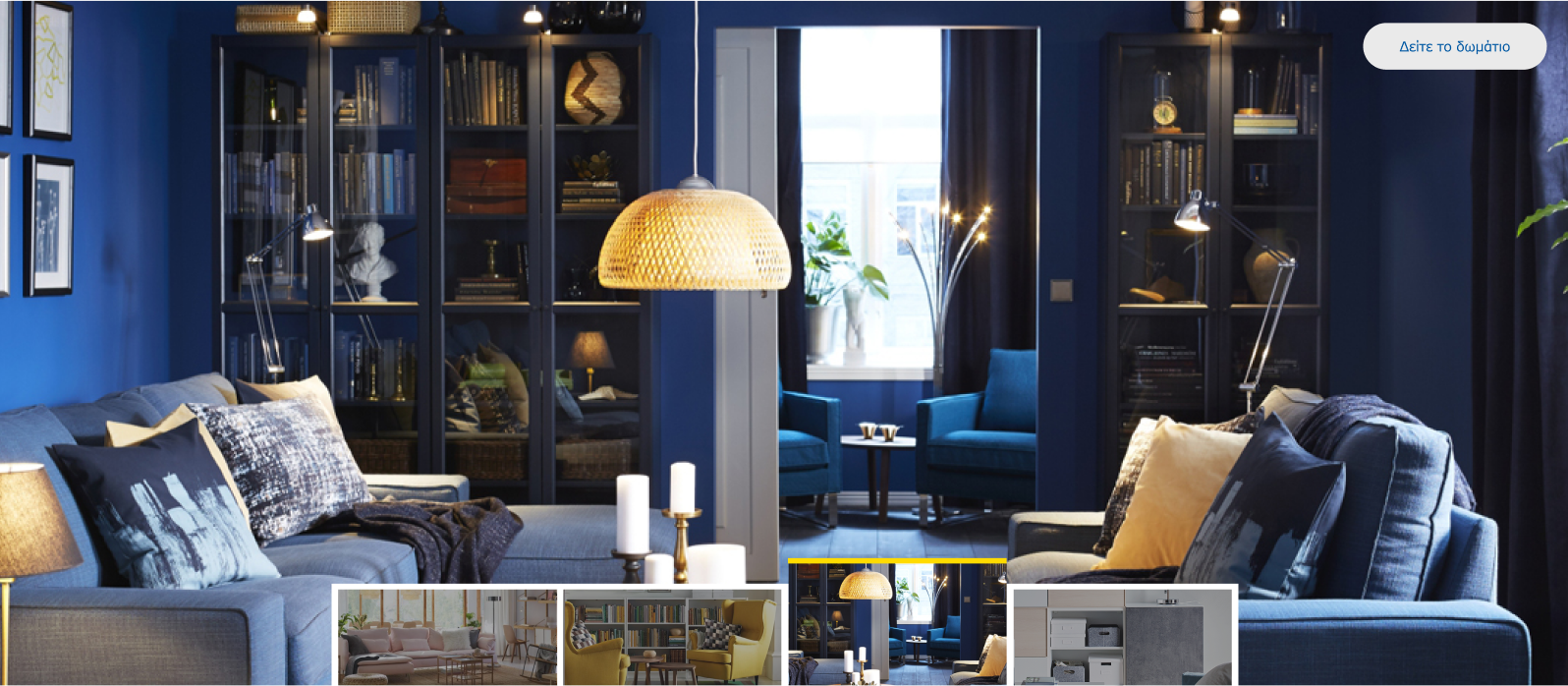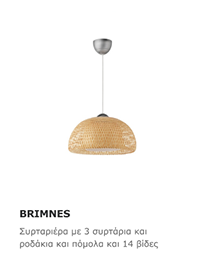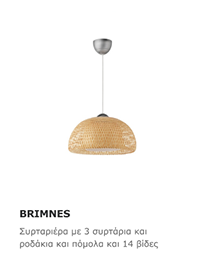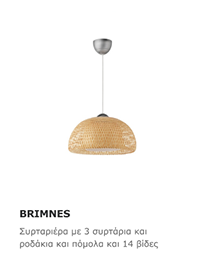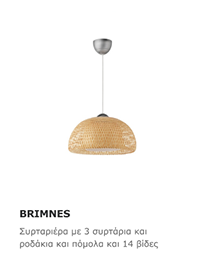 THE ULTIMATE INSTORE COMPANION
MADE AGILE. MADE FAST
A key component of IKEA's Omnichannel ecosystem, the IKEA Greece mobile app enhances instore shopping experiences and provides seamless connection with IKEA's digital channels. When instore, customers can instantly get information about a product simply by scanning its barcode or SKU, locate it at the shelves or at the pick-up station, add it to their basket or create shopping and wish-lists.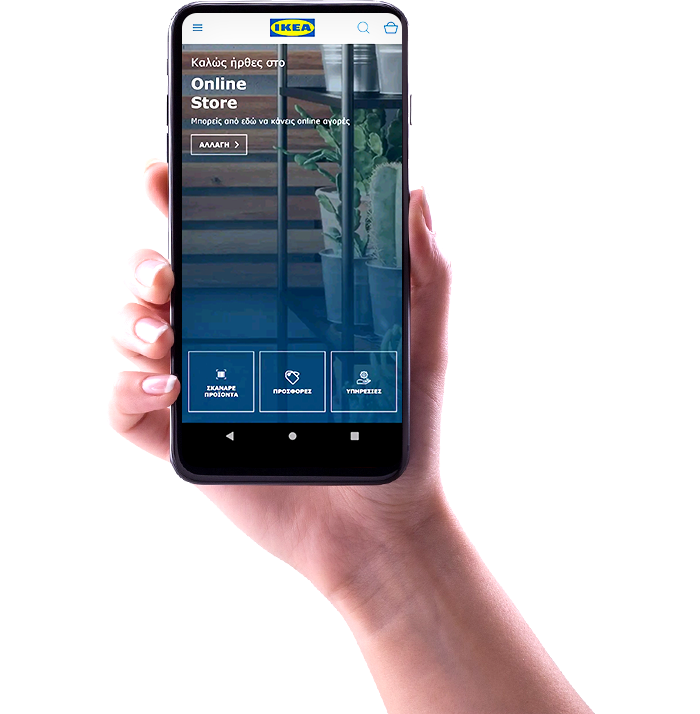 SHOP ON THE MOVE
FROM INSTORE TO MOBILE COMMERCE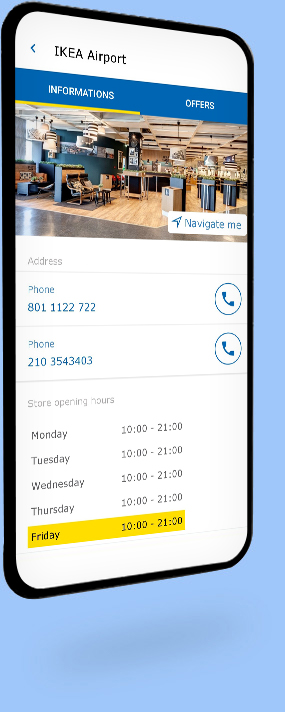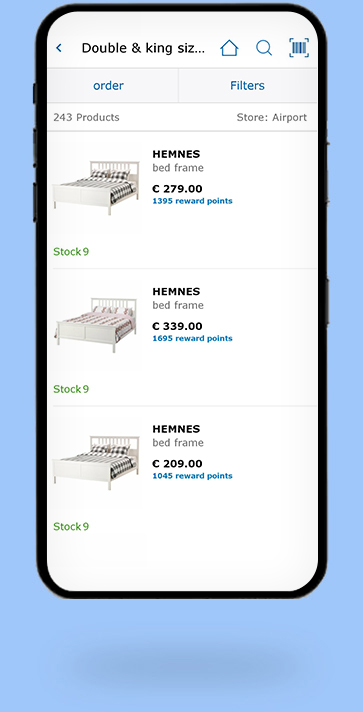 TRULY CONNECTED
CHANNELS DON'T MATTER
The basket of logged in users is synchronised across all IKEA channels, enabling users to create, manage and complete an order by switching channels throughout their user journey. This is the essence of a truly unified customer experience which can have different starting and ending points, either digital (mobile app, e-shop) or physical (instore – mobile app). With one universal basket, purchase is always one step or one tap – or both – away.
REGISTRATION
ONE ACCOUNT FOR ALL
No longer "cut off" from the registration process, the IKEA Family loyalty programme is now incorporated into the IKEA user account, ensuring all IKEA customers enjoy the same, unified experience.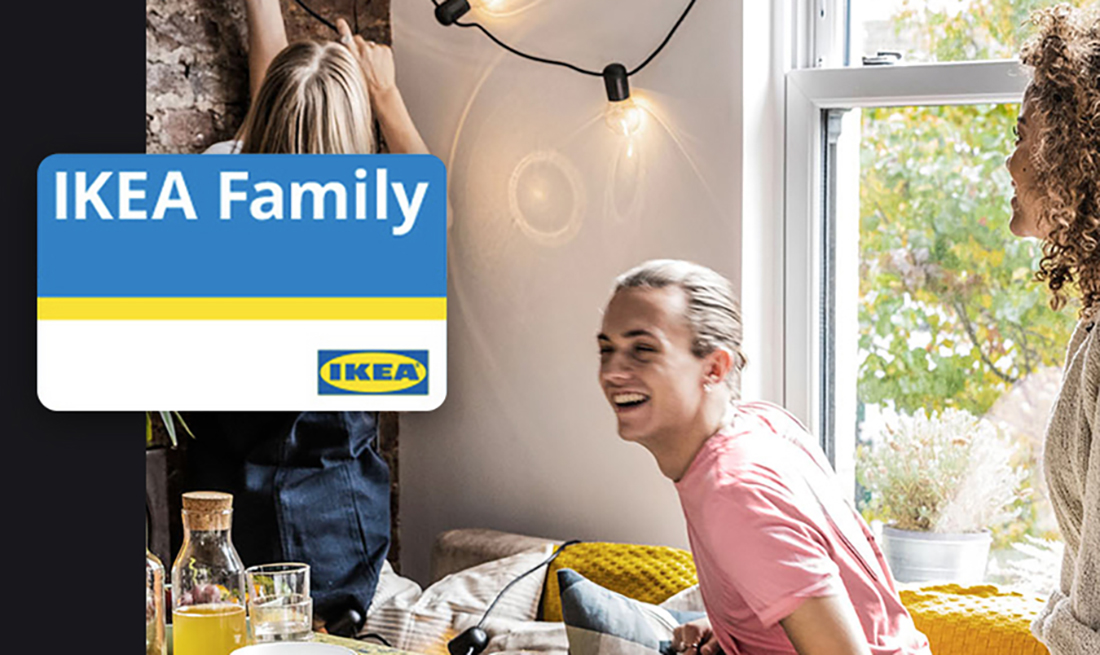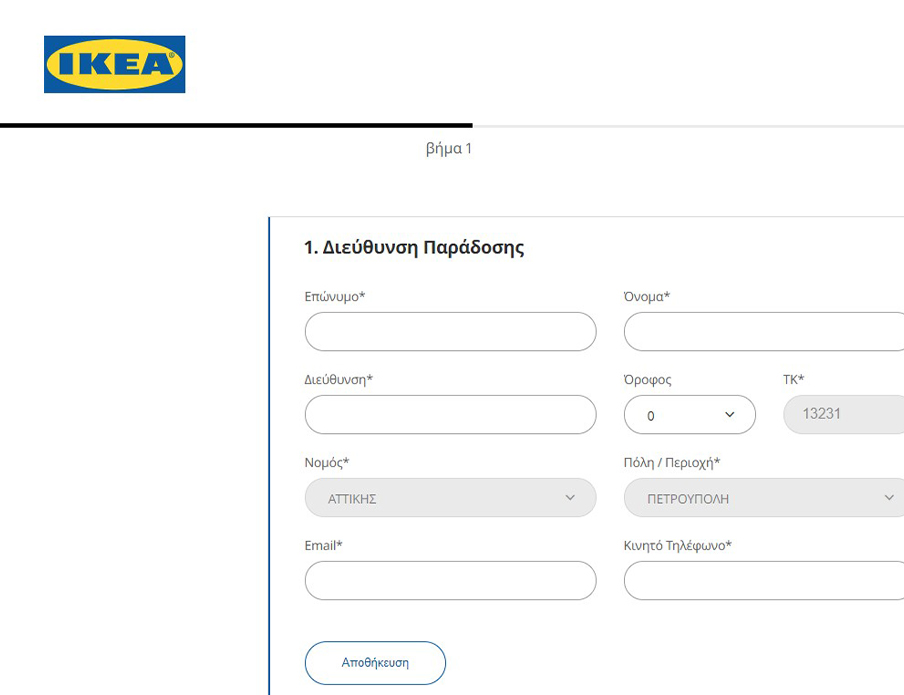 ONLINE PURCHASE
CHECK(THIS)OUT
Checkout is straightforward and uncluttered, with clear and editable basket view - guest checkout is always available.
THE OUTCOME
CONNECTING THE DOTS OF IKEA'S OMNICHANNEL CUSTOMER EXPERIENCE
The IKEA Omnichannel ecosystem reinvents the shopping experience and places the customer at the centre of all touchpoints. Identifying each user as a separate entity across channels, IKEA delivers targeted service in an efficient and engaging manner.
What the future holds for IKEA? Future-proof and ready-to-scale, the components of IKEA Omnichannel are backed by a solid infrastructure that supports the continuous integration of future developments, along with Business Intelligence, marketing and CRM tools.

TECHNOLOGY
BUILT WITH THE BEST



RESULTS
Mobile transactions +0,0 %
Transactions +0,0%
Conversion rate +0%
OMNICHANNEL COMMERCE IS THE WAY TO THE FUTURE.
CONTACT US