THE KALOGIROU INTERACTIVE WINDOW DISPLAY
CASE STUDY IN STORE INSTALLATION
THE CHALLENGE
As a brand, Kalogirou has established itself in the minds of Greek customers as the ultimate shopping destination for luxury designer shoes, handbags and accessories, primarily in physical stores and through the company's e-commerce platform as well.
Recognizing the power of brick & mortar when it comes to fashion customer experiences, but at the same time acknowledging the need to evolve into a digital era, Kalogirou wanted to bridge this gap, with an activation that would set new market standards, create customer interactions and mark a new era for the company.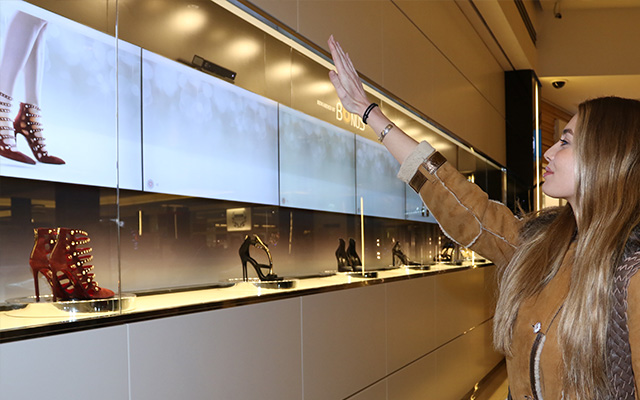 ATCOM was called to conceptualize, design and apply a set of innovative technologies to the company's high visibility flagship store at the Golden Hall luxury mall, aimed at empowering the customer – retailer relationship, creating stand-out digital experiences, and showcasing the company's forward-looking identity.
THE STRATEGY
SO HOW DID OUR INNOVATION TAKE THE BRAND A STEP FURTHER?
The key objective driving ATCOM's strategy was to create an incentive for easy and fun consumer engagement that would allow audiences to explore the brand through technology. What we wanted to do, was to deliver a head turner installation that would motivate people to interact and effortlessly experiment with the brand and mark the start of an open line of communication that would seamlessly integrate digital technology within the brick and mortar store.

Easy and fun consumer engagement

Allow audiences to explore the brand through technology

Deliver a head turner installation
Where did we start? At the very beginning, the store façade, for a "love at first sight" effect.
Store windows are the retail's first impression and the "golden ticket" for customers to either enter a store or leave. Other than product display, store windows have evolved into an excellent canvas for digital applications, from impressive shows streamed real time to online shop access. So we decided to turn the Kalogirou flagship store windows into an engaging brand interaction experience, by developing Greece's first interactive fashion window display.
THE CONCEPT
Developing the first interactive window in Greece.
Giving a digital "face lift" to Customer experiences and a boost to brand loyalty.
Fitting the Kalogirou brand elements, a luxurious, pioneer, interactive window display was setup at the Golden Hall flagship store. Specifically, the façeade window display hosted a unique "window shopping" experience, where shoes were combined with a mega video wall as a backdrop.
As visitors passed by the window display, they could virtually "try on" shoes with the help of a real model projected on the screens that was sensor activated. Specifically, Microsoft Kinect sensors identified the human figure and captured the subject's movement and orientation. Thus, the model on the video wall followed the visitors' steps, wearing the shoes that were physically right in front of them.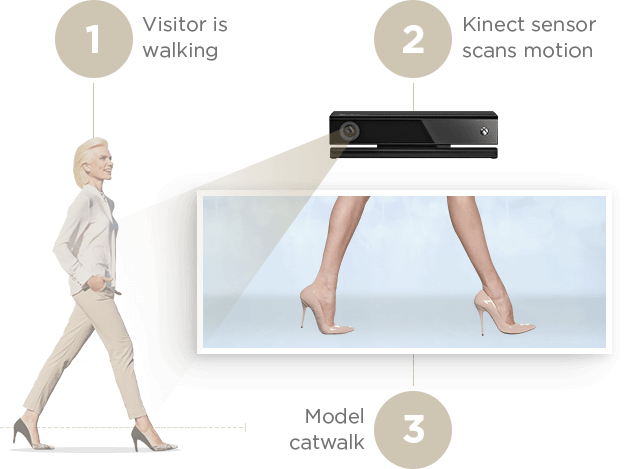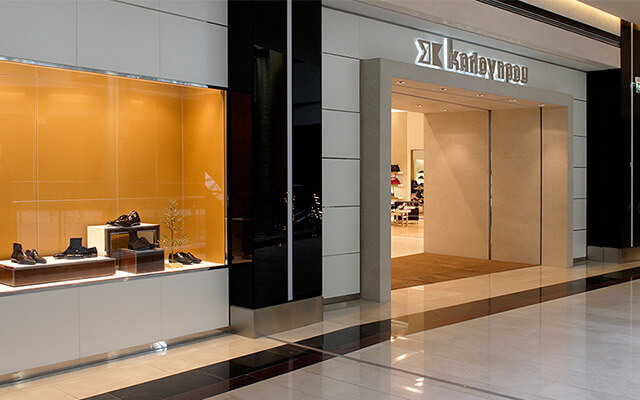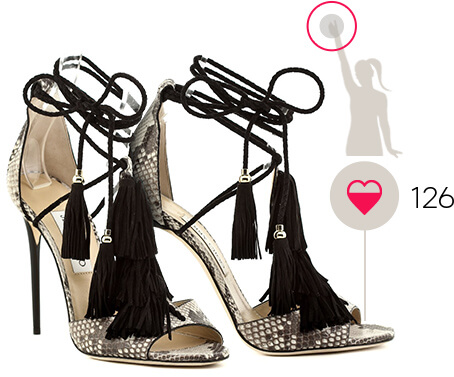 Additionally, through live interaction, guests voted for their favorite pair of shoes just by raising their hand in front of their preferred model, offering valuable, on the spot, instant insight to the brand.
The display was designed to manage interaction with multiple consumers at the same time, while its size allowed for maximum visibility on the mall floor, turning heads and tempting customers to come and explore what was on display.
MAKING OF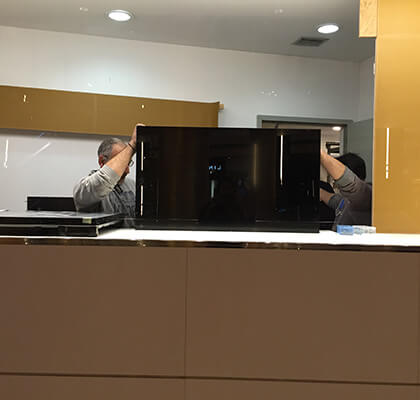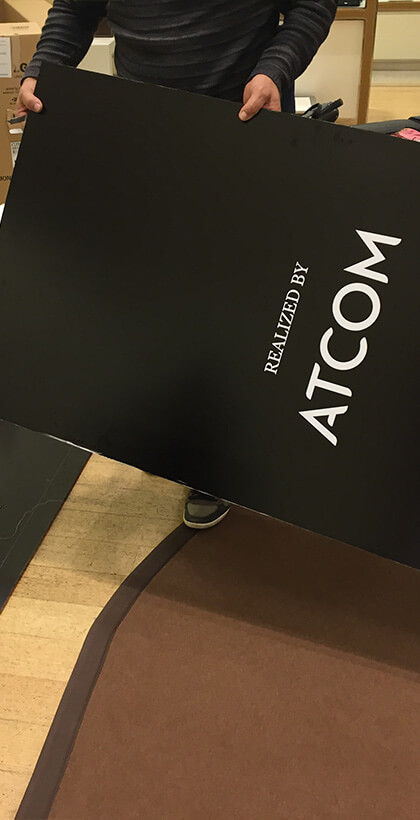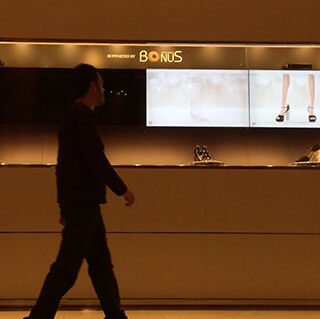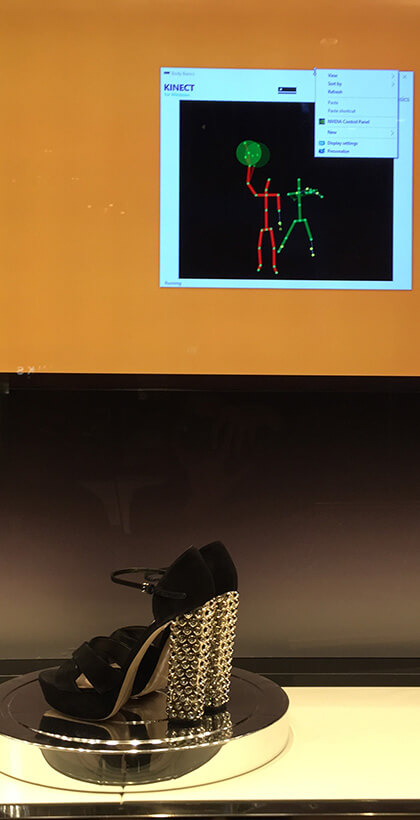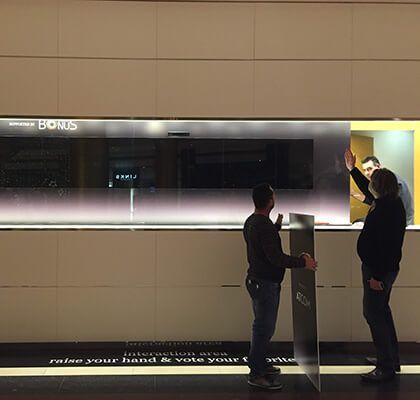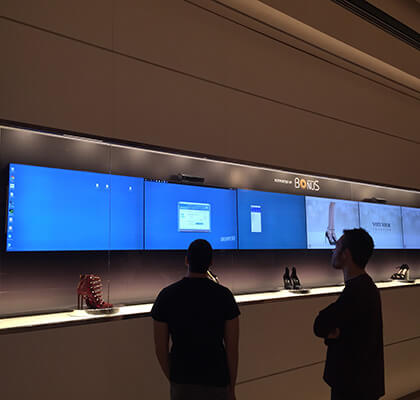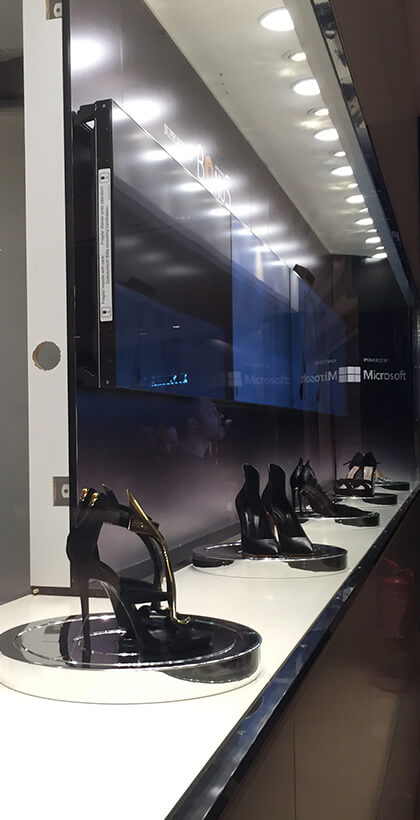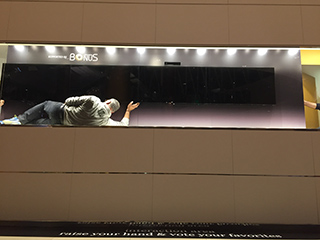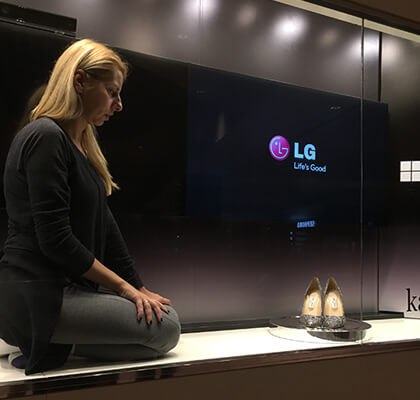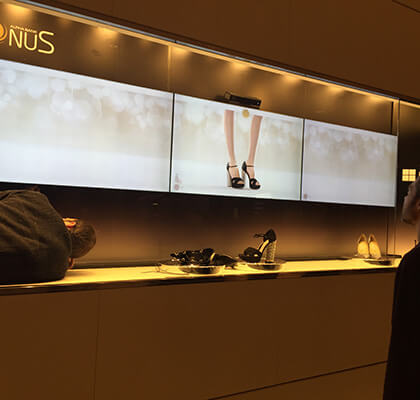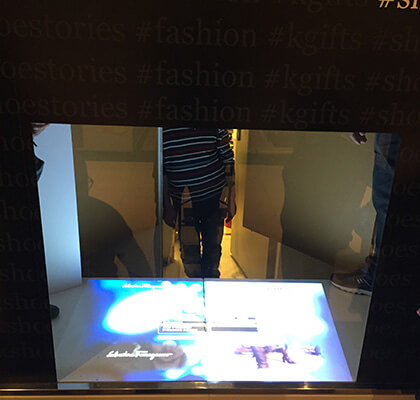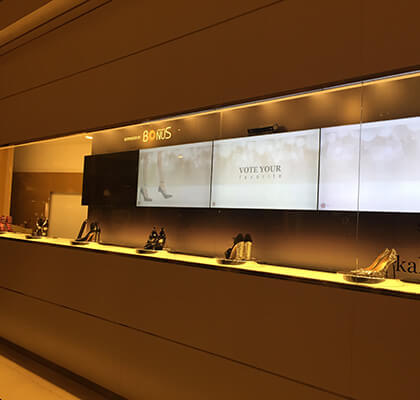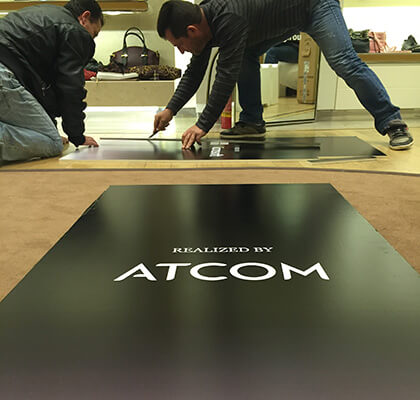 TECHNOLOGY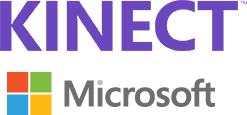 MICROSOFT KINECT
The Kinect is an input device consisting of 3d depth sensors and infrared projectors, enabling users to interact with a system through a natural user interface, by motion detection. Based on the gesture recognition, the Kinect technology creates fascinating and useful experiences, allowing for a deeper engagement with customers.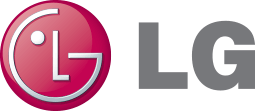 LG VIDEO WALL
We used an LG Video Wall 55'', with LG Super IPS technology which minimises image retention, enables higher image quality, brightness uniformity and wider viewing angle due to better control of liquid crystal. Remotely monitored and controlled, it provides flexible connectivity with multiple inputs and outputs.

NETVOLUTION
ATCOM's multi-awarded WCMS, Netvolution is a unique digital commerce, digital publishing and development platform that enables the creation and effortless maintenance of cutting edge digital properties, while offering engaging multi-channel user experiences.
THE OUTCOME
Building a holistic consumer experience for Kalogirou to welcome the new age of Omni-channel shopping. Once introduced to a whole new digital world, consumers will keep anticipating and coming back for the next surprise that is "in store".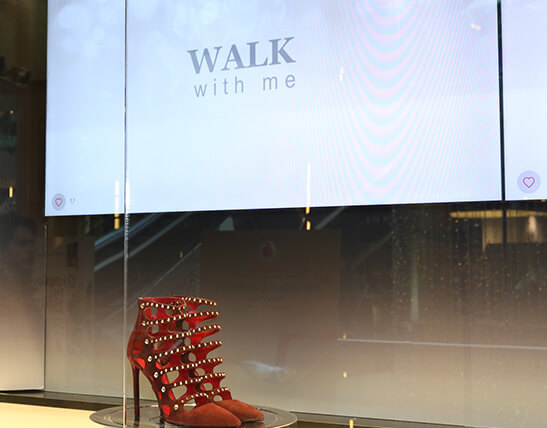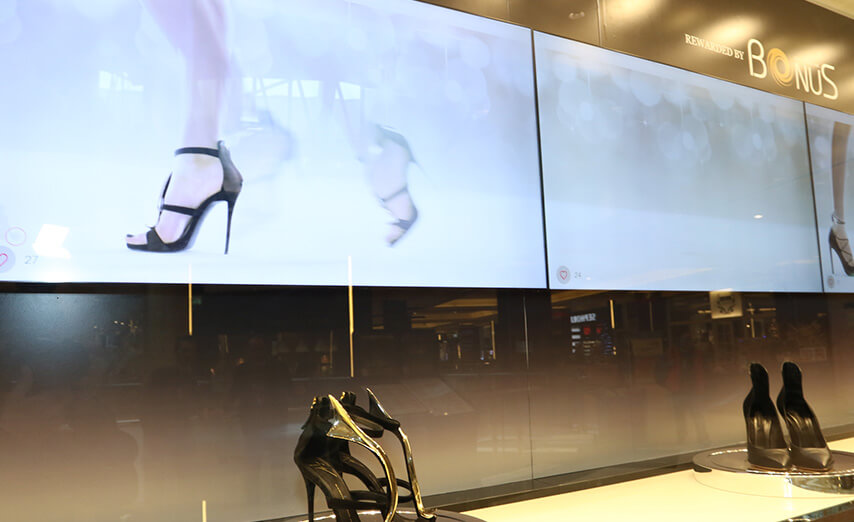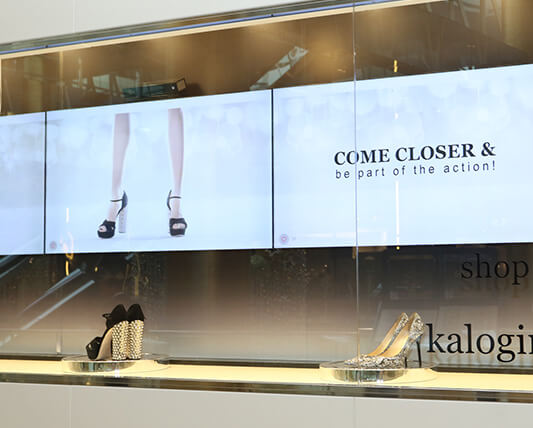 Ιn the Kalogirou case, we managed to merge offline strengths with digital advantages, and reimagined the fashion retail world by creating a holistic, in-store interactive experience that bridged the physical – digital barrier. The interactive window installation showcased the apparent potential of a successful Omni- channel strategy and its effects on the brand – customer relationship. Kalogirou consumers had the chance to experience first-hand the innovative technologies that can complement their shopping experience and embrace the brand's journey into the digital world.
The use of innovative technologies are the future of retail. They need to be engaging, inclusive and relevant to consumer needs, driving engagement, brand interaction and a holistic phygital experience.