EVEREST.GR BY ATCOM IS E-SHOP OF THE YEAR
One of the top distinctions of the e-volution awards '21 and 21 more awards for ATCOM
ATCOM won the E-shop of the Year award for its project everest.gr at the e-volution awards 2021, the most prestigious institution that recognises e-commerce best practices, on top of 21 more awards for its work on clients' web, mobile and Omnichannel applications.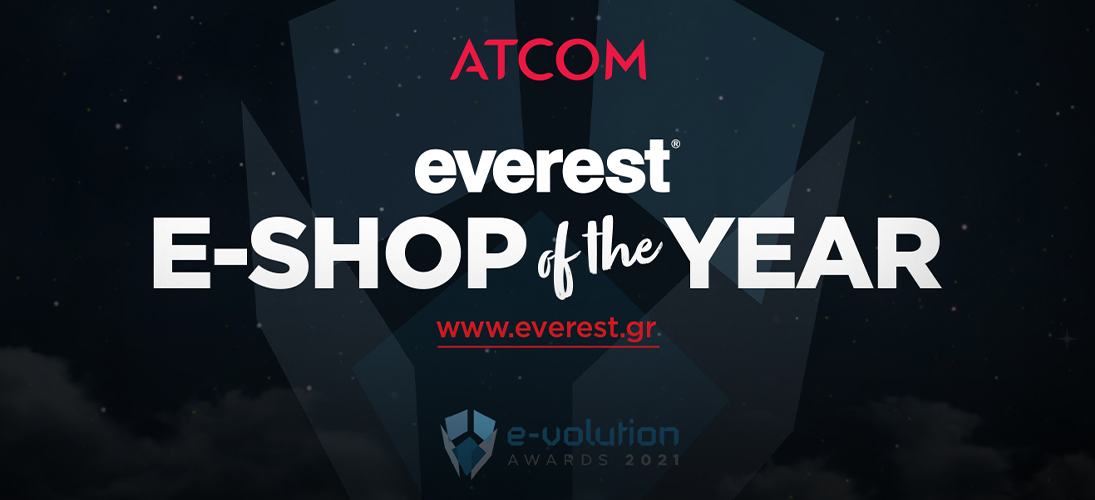 Specifically, ATCOM received one of the organisation's top distinctions, as well as 7 Gold, 10 Silver and 4 Bronze awards, achieving the highest success rate in award entries, which exceeded 63%. The winning submissions referred to projects for everest, EUROBANK, notos, Let's Ferry and IKEA, starring in the "Innovation & Experience Design" category, while also establishing a significant presence in all of the institution's categories.
ATCOM's Chief Commercial Officer Jason Kataropoulos stated: "The e-volution awards distinctions always hold a special significance for us; even more so this controversial year. We are proud of our strategic partnership with everest, and the E-shop of the Year award embodies our successful common course, as well as ATCOM's utmost dedication to serving Digital & Business Transformation. It is a special honour to see our partners continuously progress their digital strategy, as with EUROBANK, that was pronounced E-Business of the Year. Congratulations to our clients, who put their trust in us, and to the ATCOM team, whose unabated work and passion brings to life our vision, to transform every aspect of e-commerce, customer experience and e-business reality".